Film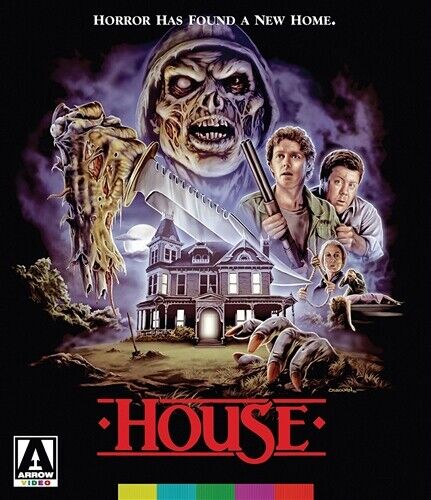 House Arrow Blu-ray
If you are going to show your kids a horror film for the first time…this is the one to show them.
– William Katt
From Ding Dong, You're Dead: The Making of House
I think that is the perfect way to sum up 1985's House, the next movie on my list of 1980s horror everyone should see, and Arrow Video makes it easy to enjoy with their terrific HD release.  Having not seen it since the VHS era, (What's that?) it was a joy to see it so bright and clear compared to the old lo-fi and tiny TVs of my youth.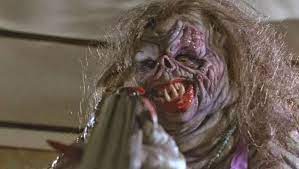 Katt is Roger Cobb, a popular writer who has inherited his late aunt's home. Recently divorced and struggling with his next book about his experiences in Vietnam, he moves back into the house that his aunt believed was haunted and is even possibly responsible for the disappearance of his young son. Of course, strange things begin to happen around the house. Is Roger losing his mind or does the house have it in for him? Also co-starring George Wendt who was quite popular in the mid-'80s as a character actor. ( i.e. Fletch or Dreamscape, which I hope to cover sooner or later.)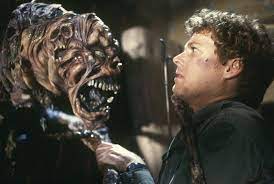 House has a unique tone with just as many laughs as scares and surprises. The monsters are not all that scary except perhaps for the very young as they have a cartoonish exaggerated look to them.
The picture quality is excellent with noticeable but not distracting film grain common for films of the time. The colors are vibrant, and they took the time to get this one right. As this transfer was in 2K, and there are currently no plans to rescan it for 4k, there is little risk of picking this up only to see a 4K appear in six months as is getting more and more common lately. The soundtrack comes in mono, stereo, and Dolby Digital/DTS 5.1 surround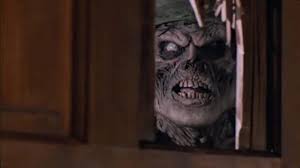 Special Features are no slouch either. A new documentary Ding, Dong, You're Dead! The Making Of House discusses the movie with interviews including Katt, Kay Lenz, George Wendt, director Steve Minor and many members of the production team. Though it's a bummer that Richard Moll was not a part of it, there are a lot of great stories and production photos that make it enjoyable in its own right. Also a director's commentary with Steve Minor, a vintage making of piece, a still gallery, and trailers. As usual, Arrow gives you the choice of the original disembodied hand ringing the doorbell or a new painting for the case cover. Finally the full first draft of the screenplay and 15-page treatment that was the basis for the movie.  (However, you will need to pop the disc into your PC BD drive to read those if you have one.)
House did spawn three mostly unrelated sequels though William Katt did reprise his role in House IV: The Repossession. Sometimes once is more than enough.