Actors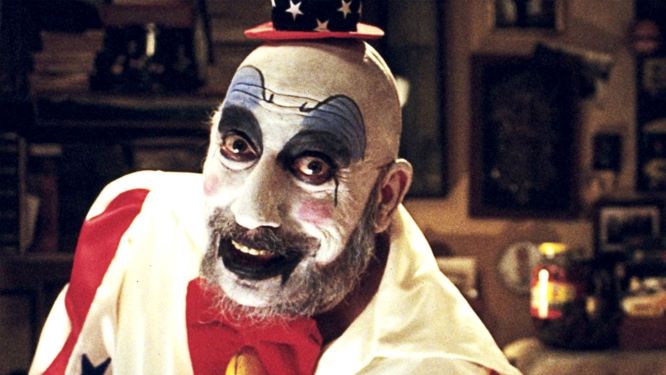 Sid Haig- Icon of Horror Cinema
Who would have thought that an awkward California boy who took dancing lessons as a kid would grow up to be Captain Spaulding??  Certainly not Haig and Roxy Mosesian!  Sidney Eddie Mosesian was born on July 14, 1939.  He had a nice California childhood and a loving family.  Sid was getting tall and a bit uncoordinated, so his parents thought he might try dance lessons.  He turned out to be pretty good at it and started making money dancing. When he was in high school he joined the drama club. He also had a talent for music and learned to play the drums. He showed a real talent for it and by the time he graduated high school, he got a recording contract.: He would later perform on the 1958 song "Full House" by a band called the T-Birds. (talented much, Sid?)
Back in high school, he was cast in the senior play. His teacher (a former Broadway actress) invited Dennis Morgan, an actor friend of hers, to the play.  He was impressed with Sid and encouraged him to pursue an acting career.  Sid enrolled in the Pasadena Playhouse, and after he graduated he moved to Hollywood to begin his acting career.  He got his big break acting in a student film by Jack Hill called The Host. Sid and Jack would become lifelong friends and Sid appeared in other Jack Hill productions like Spider Baby, Coffy, and Foxy Brown.
Sid has acted in over 70 movies and has had parts in over 350 tv shows!  He got tired of always playing the bad guy and retired from acting in 1992, saying: "I'll never play another stupid 'heavy' again, and I don't care if that means that I never work, ever."  He kept his promise until 1997 when a young director named Quentin Tarantino, who had taken Hollywood by storm three years earlier with his masterpiece Pulp Fiction, wrote a part specifically for Sid in his upcoming movie, Jackie Brown. Tarantino loved 70's low budget action films and knew about Sid through his Jack Hill performances. This helped Sid get more serious work, which showed off his range as an actor. Then came 2003 and House of 1000 Corpses and the birth of Captain Spaulding.  I admit to never seeing the movie (please don't yell at me!!).  I was warned that it is extremely gory, which has never really been my thing.  Oh yeah, and Captain Spaulding is a scary clown, so that leaves me out!  Sid has an immense list of acting credits, but since we're all about the horror here, I'm just going to list them.  I want to make sure you don't miss any:
House of 1000 Corpses

– 2000
Night of the Living Dead 3D –  2006
Halloween

– 2007 (Rob Zombie remake)
Brotherhood of Blood

– 2007
Haunted World of El Superbeasto

– 2009
The Penny Dreadful Picture Show –

2013
To Hell and Back: The Kane Hodder Story

– 2017 – (documentary)
Suicide for Beginners

– 2018

His television career is too long to list. He was an action movie star. His career began on the 1962 series The Untouchables, and from there he played in classic tv series like The A-Team, TJ Hooker, Dukes of Hazzard, Quincy ME, Hart to Hart, Fantasy Island, Charlie's Angels, Police Woman, The Rockford Files, Six Million Dollar Man, Mannix, Mission: Impossible, Gunsmoke, Get Smart, Here's Lucy, The Flying Nun, Daniel Boone, Star Trek, and Batman, and it continued through the 2005 tv movie House of the Dead 2.   He received Fangoria's Best Supporting Actor Chainsaw Award for his role as  Captain Spaulding in House of 1000 Corpses,  a Best Actor Chainsaw Award for Captain Spaulding in Devil's Rejects, he shared Spike TV's' Most Vile Villain' award for Devil's Rejects with Bill Moseley, Leslie Easterbrook, and Sheri Moon for the Firefly Family.  He was also inducted into the Horror Hall of Fame. Follow this link to IMDB for everything the talented Mr. Haig has ever done!   Sadly for us all, Sid passed away in September of 2019.  He will forever live on in our memories…..and our nightmares.