Editorial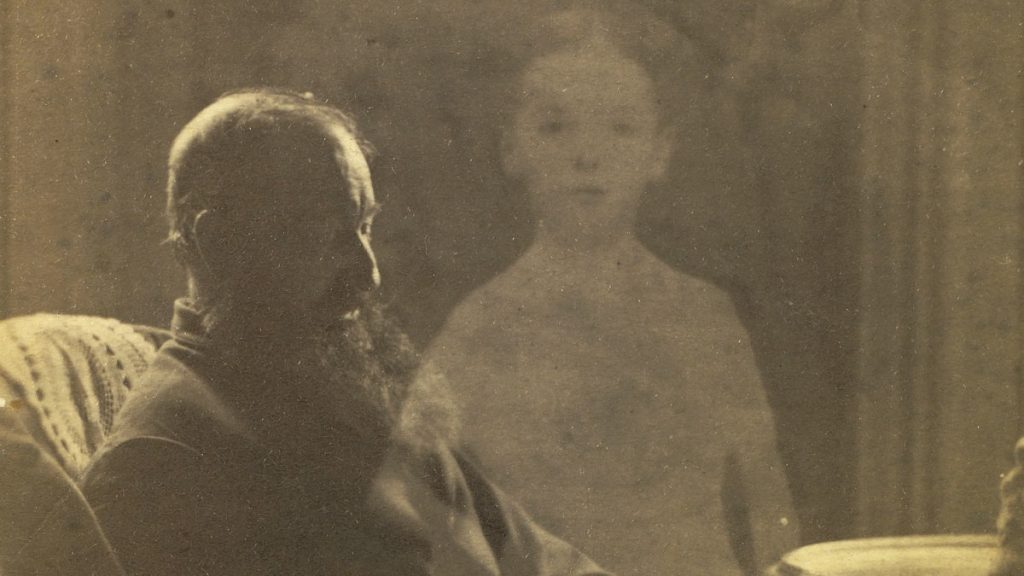 Ghost Photography
We've all seen pictures with ghosts in them. They're the original photobomb. The ones people claim are evidence of a haunting. Did you know that after the Civil War, people would pay to have their picture taken in the hopes of the spirit of a loved one showing up? They usually did. Even Mary Todd Lincoln believed it, and of course, her hubby Abe showed up right on cue. What they didn't know was that it was all a lie. A photographer's trick to make money. A trick that was discovered by accident!
Ghost Photography (a/k/a Spirit Photography) was accidentally discovered by a man named William Mumler in the early 1860s. He was just learning how to take pictures (he was a silver engraver) and was practicing by taking self-portraits. He noticed that one picture had what looked like the ghost of his dead cousin in the background. He showed it to a medium who said it was definitely a ghost. What really happened was that he put a fresh photographic plate (used before film was invented) over one that had already been used, and both images showed up. Basically, it was double exposure. But word got around about it and everyone wanted him to take a picture for them. Spiritualism was very popular in those days, and people who had lost someone in the Civil War were desperate to see them again. He started to charge $10 for the pictures (which was a lot back then) and was making a pretty good profit.
He got pretty good at it too. He learned to use different exposures and a technique called combination printing. He used pictures of the dead relative when he could (which he got by breaking into people's houses). Sometimes he used those pictures together with a different person's body in order to get the effect that he wanted. If he couldn't get a specific picture, he would use someone else's picture and blur it. That was enough to convince a grieving person that their loved one was with them.
Meanwhile, photography experts were trying to figure out how Mumler faked the photographs. His most famous skeptic was P.T. Barnum (the Barnum half of Barnum and Bailey Circus). He was convinced that Mumler was faking the pictures to capitalize on people's grief. He asked Mumler to take his picture and when it was developed, Abraham Lincoln was there. That was all Barnum needed to accuse Mumler of fraud. He was arrested and put on trial for fraud. Mumler was acquitted of fraud, but his career was over.
Even after the Mumler case, photographers used his techniques and claimed to be "spirit photographers". No matter how many photographers were either accused of committing fraud or proven to have committed fraud, the spirit photography industry kept growing. A man in the U.K. named William Hope was one of the more successful spirit photographers. One of his biggest fans was Sir Arthur Conan Doyle, the man who invented Sherlock Holmes. In 1922, Doyle even wrote a book called The Case for Spirit Photography. He was so sure that spirit photography was real, that he stopped speaking to his good friend Harry Houdini after Houdini said that it was all fake!
William Stainton Moses was an English priest (and medium) who investigated spirit photography. He examined over 600 alleged spirit photographs and said that there were probably no more than a dozen that might possibly be supernatural. He said that there are people out there who had so much grief that they "would recognize a sheet and a broom as their dear departed".
As the years passed and cameras became more advanced, the spirit photography business died out (no pun intended). Photography was easier to understand and people got harder to fool. Although even to this day, ghosts have shown up in pictures.
It just goes to show that grieving people will do anything to see their loved ones one last time. I know I would.
https://www.bbc.com/future/article/20150629-the-intriguing-history-of-ghost-photography
https://www.pocket-lint.com/cameras/news/141224-the-most-famous-ghost-photographs-ever-taken