Homicide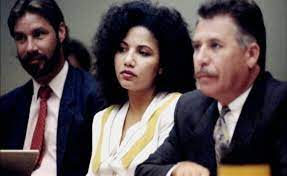 Omaima Nelson
If you live with someone who owns a deep fryer – you may want to read this. You don't want to piss them off and end up as dinner. Don't roll your eyes. It's happened before. Just ask Omaima Nelson's former husband. Oh, wait…you can't.  He ended up as Thanksgiving dinner!
Omaima was born in Egypt in 1968. As a child, she went through genital mutilation (removal of her clitoral hood). The mutilation left her in constant pain and made sex even more painful. Omaima has claimed that as a child she was both physically and sexually abused. She immigrated to America in 1986. She worked as both a nanny and a model and reportedly worked as a prostitute to get money for food and rent.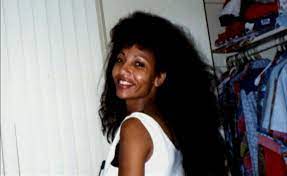 She met Bill Nelson in October of 1991. They got married a few days after meeting. He was fifty-six and she was twenty-three. Omaima claims that her husband sexually abused her during their short marriage, and because of the genital mutilation was extremely painful. On Thanksgiving of that same year, Omaima said that Bill attacked her again. That was the last straw for her. She stabbed him with a pair of scissors and started beating him with an iron (differing reports say it was a lamp). After he was dead she dismembered his body. and supposedly castrated him. Many different accounts of Omaima's life and crimes have been reported, I'll try to give you all of them: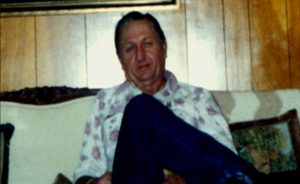 According to my research, there are several different accounts of what happened next:
She dismembered his body and boiled the hands. Then she cooked some of his body parts along with the Thanksgiving leftovers and threw them away. OR…

She put Bill's head in the freezer and stuffed some parts of his body in the garbage disposal. Neighbors have said that they heard the disposal running all night. OR…

She skinned his body, fried the hands in oil, put the body parts in bags, and offered a friend money to help dispose of them. She asked two of her ex-boyfriends to help get rid of Bill's teeth so he couldn't be identified. One of the men notified the police.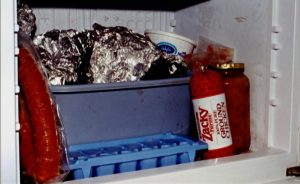 Omaima was arrested in December 1991. Omaima said that she killed him in self-defense. Her psychiatrist, Dr. David J. Sheffner said that Omaima told him that she dressed in red shoes, and a red hat and put on red lipstick as part of the dismemberment ritual.  He also said that she told him that she cooked  Bill's ribs in barbeque said and said "…I did his ribs just like in a restaurant. It's so sweet, so delicious…I like mine tender".  Dr. Sheffner said that she later denied eating Bill's remains. Dr. Sheffner said that he had never seen anything so bizarre and psychotic in his twenty years of practice. He diagnosed her as psychotic.
During the proceeding, she was also being tried for the 1990 assault, false imprisonment, and attempted robbery of former boyfriend Robert Hannson. She was accused of tying him up and holding him at gunpoint for money.  A year after her trial began, she was found guilty of assaulting Robert Hannson and of the second-degree murder of Bill Nelson. Omaima was sentenced to 28 years to life in the Central California Women's Facility in Chowchilla, California. 
She was up for parole in 2006 and was denied because she was found "an unpredictable and serious threat to public safety" by the parole commission. She was denied parole again in 2011 because she "had not taken responsibility for her actions and would not be a productive citizen".  She will be eligible for parole in 2026.
https://murderpedia.org/female.N/n/nelson-omaima.htm