Haunted Houses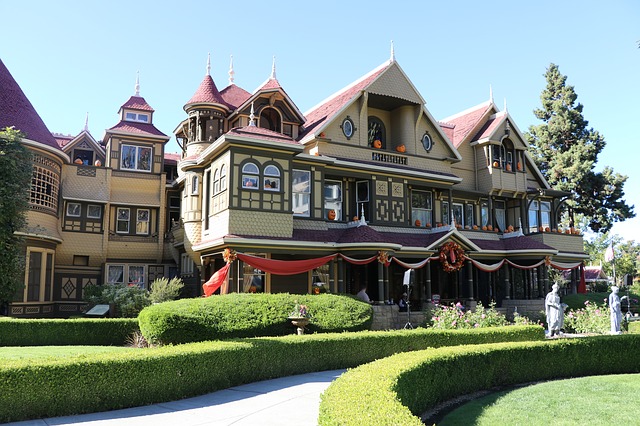 The Winchester Mystery House
One of my favorite haunted houses is the Winchester Mystery House in San Jose, California.  It has such an interesting and strange history. Sarah Winchester was the widow of William Wirt Winchester, who was the heir to the Winchester Repeating Arms Company. They were married on September 30, 1862. Their daughter was born in June of 1866, but died six weeks later. William died in March of 1881. After they died, Sarah was so grief stricken that she saw a medium in the hopes of speaking to them again.
The story goes that the medium made contact with William, who told Sarah to move from Connecticut to California. He supposedly told her that in order to avoid being haunted by the ghosts of people that had been killed by a Winchester rifle, she should use the money she inherited from the rifle company ($200 million dollars) to build a house for the spirits. 
When she bought the property there was only an eight room farmhouse there. She hired contractors, and without any formal plans or instructions she told them to start building. So they did. Rooms were constantly added. Staircases were constructed all over the house: some with different size steps (they look like stairs from a nightmare), and some staircases just ended. Doors opened to walls and some of the hallways would get you nowhere. This was rumored to have been done because the "good spirits" told her to, to confuse the evil spirits so they couldn't find her.
An earthquake struck the Bay Area in 1906 and the top three stories of the house came down, damaging the other four stories along with it. Some say Sarah Winchester took this as a sign that she was too close to finishing the house. She believed that once the house was finished, that she would die. She ordered the unfinished front half of the house to be boarded up. Though it's open now, you can still see signs of the damage.
By the time the maze of the house was finished, it was massive: seven stories, 161 rooms – 40 of them were bedrooms, 13 bathrooms, 47 fireplaces, three elevators and two basements, six kitchens, 10,000 windows, two ballrooms, 52 skylights, and 2,000 doors. For the time period, it was a lavish architectural marvel. It was built entirely out of Redwood (which she hated and had painted and stained), indoor plumbing, stained glass windows, fancy chandeliers, button powered gas lighting and even indoor heating. 
Winchester house was officially made a historical landmark in 1974,  In the early 1990s, the Winchester management had a parapsychologist and paranormal investigator named Christopher Chacon  investigate the house.  The investigation took a month. He interviewed over 300 people about their experiences on the property, and analyzed every aspect of the environment for any unusual phenomena. In 2018,  the movie Winchester was released.
Have you ever been there? Let me know. I'd love to hear about it!
https://en.wikipedia.org/wiki/Winchester_Mystery_House