Editorial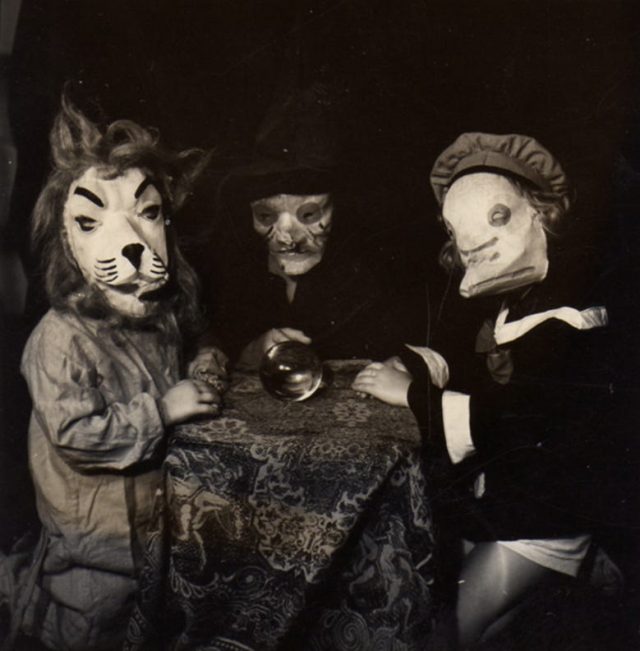 Time to Dress Spooky!
It's almost Halloween! I want to dress up, go out, and have some fun. How about you guys? Have you picked out your Halloween costumes yet? If you're like me, you want to be as scary as possible. But if you're a couple looking to do a theme – a lot of the costumes are either played out or incredibly stupid. However, we're horror fans! There are countless horror options to choose from. So if you don't want to be the usual doctor/nurse or priest/nun couple themes – try one of these:
Pennywise and George

– Easy to do! Dress like a clown (don't forget the red balloon)  and a little boy in rain gear.

Leatherface and Sally – 

The mask is available pretty much everywhere. So is the chainsaw. Some dirty clothes, an apron, and some fake blood are all it takes.

Pinhead and ______

–  Go crazy with this one! Pick any other Cenobite. Or pair him with Kristy. Even better. Just be careful with all those pins and try not to kiss anyone!

Ash Williams and a Deadite

– Get out your Boomsticks my friends! Pick a movie and a deadite. Or do whatever you want and call yourself a deadite.

Ghostface and Sydney or Gale

– I know it's an obvious couple choice but why not? Or go as

Casey

– make sure you bring your popcorn!

Freddy Krueger and Nancy

– An oldie but a goodie!

Michael Meyers and Laurie

– Speaking of oldies but goodies…

Ed and Lorraine Warren

– They're not scary, I know. But it fits the theme.

Chucky and Tiffany

– If anyone has ever told you that you're a doll – go with it and dress like one.

Chucky and Annabelle

– We don't know that he didn't cheat…

Jack and Sally

– Technically not scary, but I love that movie!

Beetlejuice and Lydia

– Also not scary, but I love that one too.

Jack and Wendy Torrence

– Bonus points if Jack carries an ax or a broken door.

Frankenstein and The Bride

– If you do the bride's hair, please send pics!!

Dracula and Mina

– A classic.

The Addams Family or The Munsters

– Pick any two characters. Or all of them if you're trick or treating with a group. If you mix the shows together it's even better.

Norman Bates and Mother

– Yes, please!

Any Universal Monster and a terrified victim!
And last but not least:
Clowns!

– The scariest thing of all!!
I know there are a ton of other killer combinations (pun intended), but this list would be extensive. This Halloween is going to be a thousand times better than last year, and I want everyone to have the best time! Spend that money. Make your costumes as elaborate as possible. Scare the shit out of everyone. Go big or go home, right? If you have something scary and creative in mind, please drop a comment and share your great ideas.