TV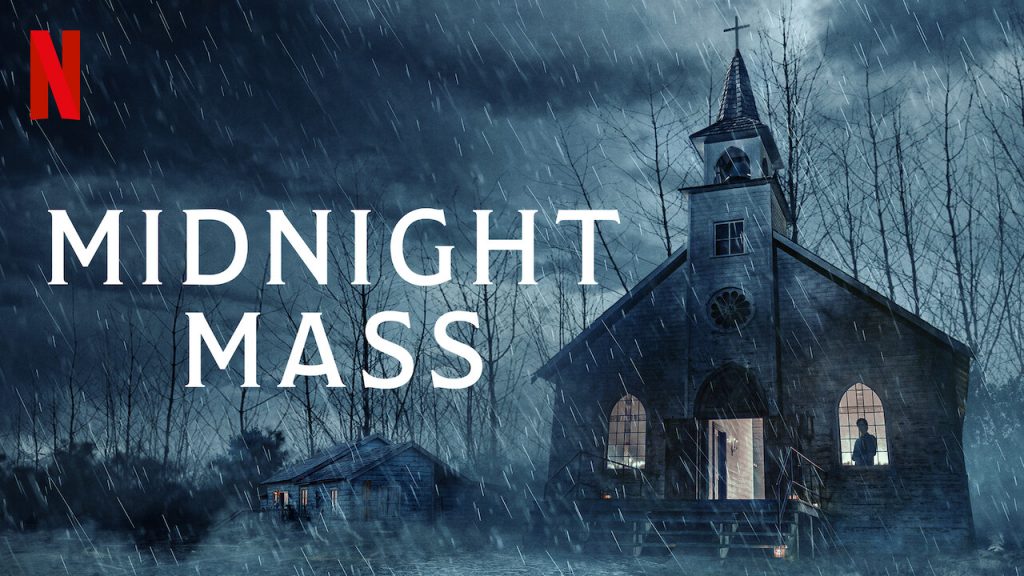 Midnight Mass
When I heard that Mike Flannigan had a new show coming to Netflix called Midnight Mass I was super excited! After The Haunting of Hill House and The Haunting of Bly Manor, I couldn't wait. He really knows how to turn out a show.  Although in my mind Hill House will always be the benchmark for a spooky horror show. (And I'll die on that hill!)
Midnight Mass is about the people of Crockett Island. It's a small community off the mainland, although we don't know where the mainland is.  There is no real Crockett Island, but to me it had a very New England feel. It's a small fishing community. It's one of those places where everyone knows everyone, and they're all pretty religious. The church's pastor went away and never came back.  One day a young priest named Father Paul comes to the island.  He says that the former pastor is ill and that he's replacing him
After Father Paul (Hamish Linklater) arrives, strange things start happening. A strange creature is seen flying around at night. Father Paul performs miracles. Most of the townspeople follow Father Paul like he's the second coming. They hang on his every word and Sunday mass gets more and more crowded.  By all appearances, he is the perfect priest. He ministers to the sick, counsels the troubled and breathes new life into the church. But not all is as it seems…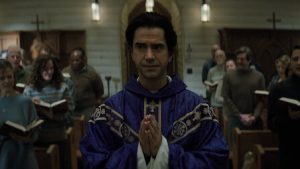 Meanwhile, a man named Riley Flynn comes back to Crockett Island after being released from prison.  He's struggling to blend back in with his family and dealing with the judgment from everyone else. He starts to rebuild a relationship with an old girlfriend. Father Paul takes him under his wing to help Riley deal with his demons.
There are islanders that have questions, but Father Paul seems to have all the answers. He has a knack for using scripture to turn any event into a blessing from God. Even if it doesn't seem that way. "It's the will of God" seems to be all people need to hear. He finds an ally in Bev Keane (Samantha Sloyan )- the island's religious zealot. Samantha knows as much scripture as Father Paul and takes devotion to the church to a new level.  She's right by his side for anything he needs. And is happy to judge everyone on the island while doing it.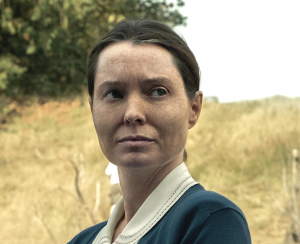 I won't go any farther than that in case you haven't seen it. 
This was much different than the "Haunting…" shows, although there are actors from his previous series here.  There are no haunted houses on the island. Flannigan went in an entirely different direction but is still very much evident in the show. You can feel his spooky touch all over the place. He used his upbringing in the Catholic church as a basis for the show, and it turned out to be very timely. Crockett Island's sheriff is a Muslim, and the local doctor is a lesbian. Flannigan also shows us how being overly religious can spill over into prejudice. 
We kept having to pause it and talk. If you're Catholic and get offended by anything that doesn't show religion in a completely positive way- don't watch this! I however thought it was brilliant. Flannigan shows how people can twist scripture for their own purposes, good or bad.  He also demonstrates how easily people can be made to follow that explanation. 
Hamish Linklater is wonderful as the faithful Father Paul. He thinks he is doing right by the people of Crockett Island, no matter what. And Samantha Sloyan really goes all in as Bev Keane. She's about as blindly devout and righteous as they come. Bev is the epitome of the crazy religious zealot. She's on hand to help Father Paul with anything he needs. 
This isn't a show about religion. Flannigan wove a horror story into it.  If you're looking for a fast-paced horror, this isn't for you. But you will get plenty of blood. The show is very monologue-heavy and you're going to spend a lot of time in church.  Truthfully, I found some of the speeches to be extremely cheesy. But listening to Father Paul pray and try to reconcile what was happening with his religious beliefs was really good. It started a lot of conversation here!
Midnight Mass is smart, dark horror.  It's a slow build with some good horror and the isolation of living on the island served the plot well. The score is church music, but I think it worked well. And as usual, Flannigan gives us the perfect atmosphere. It's a different combination of religion and horror, instead of the usual possession/exorcism. And it's another example of how sometimes people are the true monsters.
https://www.imdb.com/title/tt10574558/?ref_=tt_urv