Actors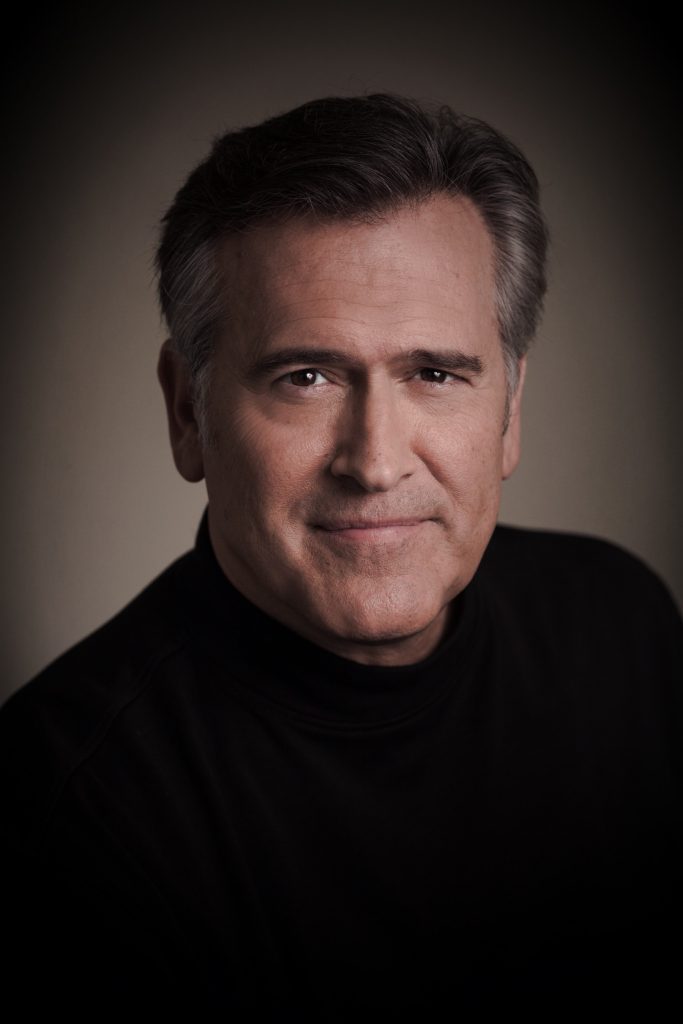 All Hail the Chin
Bruce Campbell once said "…If I had all the money in the world, I'd still make movies.  But I'd want them to pay me in donuts."  If I didn't have to pay rent I would totally agree with him.  That statement really shows the sense of humor that makes all his movies so fun to watch. And who doesn't love a Bruce Campbell movie?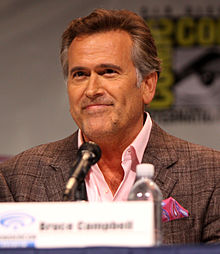 Bruce was born June 22, 1958, and grew up in Michigan. When he was in high school he met Sam Raimi. They became lifelong friends and collaborators. In 1978, Bruce and Sam started working together. They made a Super 8 film called Within the Woods. It was an early version of The Evil Dead. They made it to get investors for a full-length movie. It worked! They raised three hundred fifty thousand dollars, which they used over the next four years making The Evil Dead.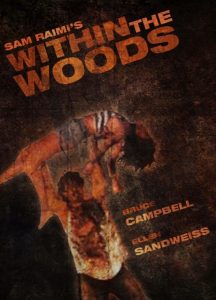 In 1983, The Evil Dead became the best-selling video in England. The film debuted at the Cannes Film Festival and Stephen King called it "…The most ferociously original horror film of the year." After an endorsement like that New Line Cinema took notice and released it in the United States. And we all know how that worked out.
After his portrayal of Ash Williams, Bruce's career took off! And his partnership with Sam Raimi was cemented in Hollywood. Bruce didn't work exclusively for Sam, although they have been collaborating on movies since they met in high school. 
Bruce's career is so much more than his friendship with Sam. His work in The Evil Dead got the attention of Hollywood. He both starred in and produced movies, and worked on television. His work spanned several genres, not just horror. And he's fabulous in all of it.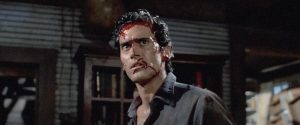 His work in television includes the leads in the western comedy The Aventures of Brisco County, Jr. (1993), the action-comedy show Jack of All Trades (2000), and of course,  Ash Williams in Ash vs. The Evil Dead – just to name a few. He's had supporting roles in tv shows like Xena: Warrior Princess, (1996), and  Burn Notice (2007). He's done cameos and guest appearances in countless tv shows. And he played Dr. Ashhford N. Simpson in an episode of one of my favorite shows of all time – Psych. And he does voice work in video games.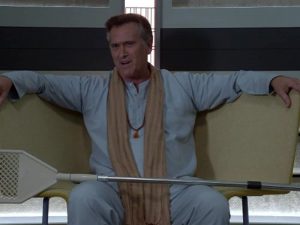 One of the things Bruce does best is "reverse-motion acting". This is when an actor's performance is filmed backward. One example is a scene in Army of Darkness where a fork impales Ash. A miniature model of Ash was used for the stabbing, Then Bruce had to film the scene using reverse motion. It was filmed starting with Ash dying, coming back to life, the fork being pulled out, and then Ash running. Bruce got so good at reverse motion that it became almost his trademark. Unless he did something wrong.  If he made a mistake, Raimi would tease him and say "This is some of the worst reverse-motion acting I've ever seen".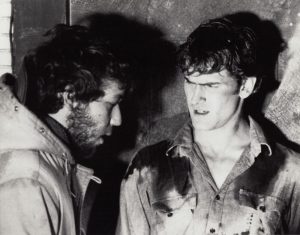 In 2007, Marvel Comics issued a five comic series titled Marvel Zombies vs Army of Darkness. Ash ends up in a world that's in the middle of the zombie apocalypse. Even Marvel's heroes are turning into zombies.  That same year gave us  My Name Is Bruce, a comedy/horror co-produced, directed, and starring Bruce Campbell.  "Bruce" (mistaken for Ash Williams) is kidnapped and has to save the town of Gold Lick, Oregon from Guan Di, the Chinese god of the dead. 
Bruce is also the author of five books: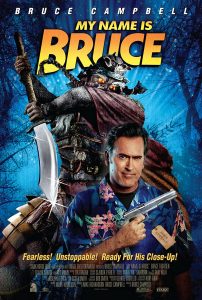 The biggest appeal of Bruce Campbell is his personality. He's just a likable guy with a great sense of humor. He's a regular at conventions and always takes the time for his fans. He knows that his popularity comes from the fans and he shows his appreciation. He embraces his popularity as a B-movie star. No matter how many big movies he's been in – he never seems to have forgotten where he started.
In 2014, he partnered with event organizer Josh Goldbloom and started the "Bruce Campbell Horror Film Festival" to highlight the indie horror industry. I started as a sidebar to Wizard World's ComicCon. There were panels, movie screenings, special guests, and the man himself. It ran from 2014 to 2017.
In 2021, he started "BruceFest". It was a weekend movie fest with The Chin himself. It was held at the Stanley Hotel in Colorado.  This year it's being held at the Masonic Temple in Detroit, Michigan. BruceFest is a weekend of movie screenings (starring him, of course) with Bruce giving commentary throughout the movie. There are many other events over the weekend including Q&A sessions, prop exhibits, a mystery dinner, scavenger hunts, a gaming lounge, photo and signing ops, and more! There are different levels of tickets to purchase – the higher the level – the more you get.  It sounds pretty groovy!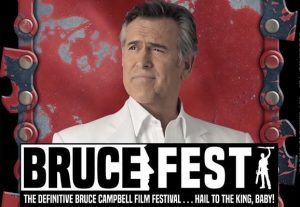 On top of movie festivals, he's a regular face at conventions and makes special appearances when he can.  I can't think of an actor that shows appreciation for fans as much as he does! Bruce has his own website bruce-campbell.com. There you will find his latest news, schedule of appearances, and more. 
Since no one can ever get enough of Bruce Campbell, here are a few more reasons to love him:
https://www.bruce-campbell.com/
https://en.wikipedia.org/wiki/Bruce_Campbell