Serial Killers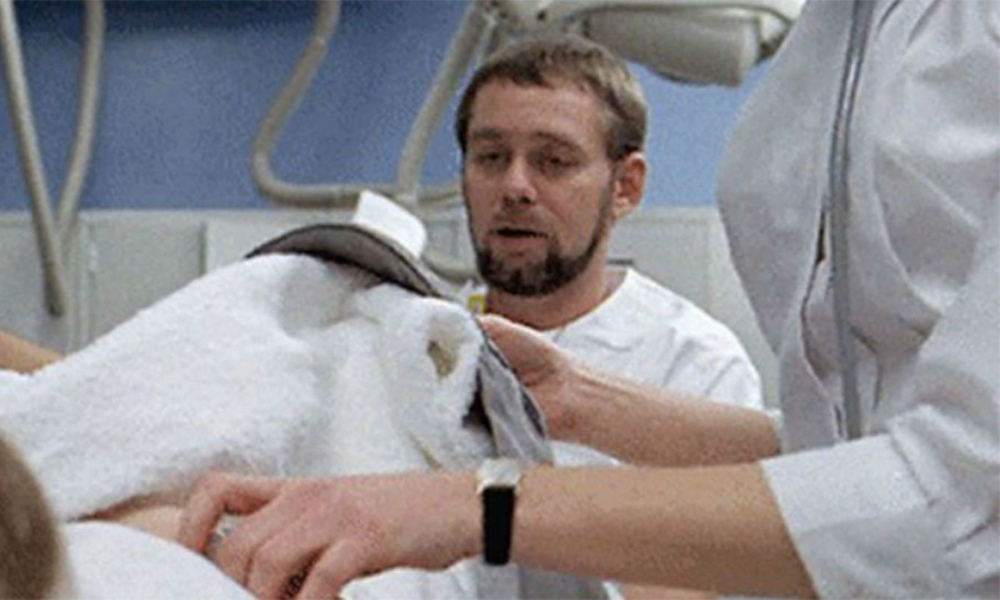 Paul Bateson – From The Exorcist to Murder
We've all heard the rumor that The Exorcist movie was cursed. Did it affect Paul Bateson too? He was a successful radiologist, but could he also have been a serial killer in his spare time?  He was arrested and sentenced to twenty years in prison for the murder of Addison Verrill. He also confessed to killing and dismembering six other men. (Allegedly).
Bateson grew up in Philadelphia and later enlisted in the Army. During his tour, he started drinking – an addiction that would plague him off and on for many years. In 1964, he moved to New York City and began a long-term relationship with a man. He also became a neurological radiologist and took a job at  New York University Medical Center. During that time – Bateson's brother killed himself and his mother passed away.
In 1972, director William Friedkin came to New York University Medical Center to do research for a hospital scene in The Exorcist.  He was invited by Dr. Barton Lane to observe a cerebral angiography. The procedure was done by inserting a catheter into an artery in the front of the neck to inject a dye. During the procedure blood spurted out of the tube and Friedkin decided that was what he wanted in his movie. He asked Dr. Lane and his team to be in the movie so it would look as real as possible. Paul Bateson was the radiologist on the team.  He claimed that he agreed to be in the movie to get revenge on his father. As a child, when he was in trouble he wasn't allowed to go to the Saturday Matinees. Instead, his father made him stay home and listen to opera.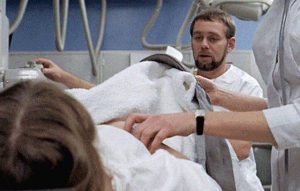 After his relationship ended in 1973, he moved to Brooklyn, New York. He started drinking again and frequented gay and S&M bars in Greenwich Village.  His drinking got so out of hand that he lost his job. In September of 1977, he moved to Greenwich Village and started doing odd jobs. Bateson met a man named Addison Verrill at one of the bars. Several drinks later – Verrill took Bateson home.
Verrill's body was found in his apartment on September 14, 1977. He had been beaten and stabbed. There were no signs of forced entry. From 1977 – 1978, six bags containing the bodies of several gay men were found in New York's Hudson River.  They had been mutilated and dismembered. The police had a serial killer on their hands. The news called it "the bag murders".
Gay activist (and friend of Verrill) Arthur Bell wrote an article for the Village Voice. In it, he complained that the murders of gay men weren't being taken seriously by the police and included the phone number for the  NYPD homicide department. He asked anyone with information about the murders to call. A few days later someone did.
A man called Bell claiming to be the murderer. He told Bell "…I like your story and I like your writing…but I'm not a psychopath." He also said, "I'm gay and I needed money and I'm an alcoholic." This man was Bateson. Bateson said that on September 14, he went to a bar called Badlands and met Verrill. The men drank, did drugs, went to Verrill's apartment, and had sex.  He said he realized that Verrill only wanted a one-night stand. "It was rejection that triggered things. Something flared up in my head. I decided to do something I'd never done before." He said that he picked up a skillet and smashed Verrill's skull. Then he stabbed him several times. He also said that he took Verrill's money and credit cards.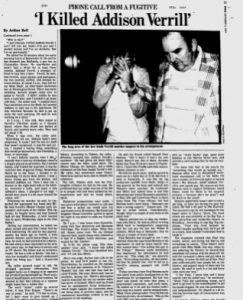 He told Bell a few lies about himself. He claimed to have a wife in Berlin who didn't know he was gay, and they had a teenage son. Bateson said he called Bell on Yom Kippur because he wanted to atone for his sins but he couldn't turn himself in because he'd "lose his license". He claimed that he didn't want to be identified so he couldn't say what the incense was for. 
Bell told the police about the call. They said it was a good lead because he gave details about the crime that hadn't been made public. They went to Bell's house thinking the man would call again. But a different man who identified himself as "Mitch"  called and said that the killer was Paul Bateson. They had met at St. Vincent's Hospital where they were drying out. He said that Bateson called him and confessed. Mitch wanted to meet with Bell but he refused.
Police found Bateson drunk and alone in his apartment. They asked if he knew why they were there and he pointed to a copy of the Village Voice article. They arrested him and he eventually wrote out his confession. After his arrest, Arthur Bell was allowed to interview him. Click here to read the full interview with Arthur Bell.  Bateson talked mostly about himself. And said he was worried about the trial because "…A lot of people will be hurt – parents, friends…Then I'll tear up my roots and settle somewhere else."
Police wanted to connect Bateson to the bag murders. He reportedly bragged about committing the murders while he was in jail.  The coroner said the bodies were dismembered by either a butcher or someone who knew what they were doing. When Bateson went on trial for Verril's murder, the prosecution tried to add the bag murders to the charges. The judge said that they didn't have enough evidence.
In 1979, Bateson's trial started. His lawyer claimed that the police didn't read him his rights. They also wanted the confession thrown out because Bateson was drunk at the time. Bateson denied making the call to Bell. Their tactics didn't work. He was convicted of second-degree murder on March 5, 1979, and sentenced to twenty years to life.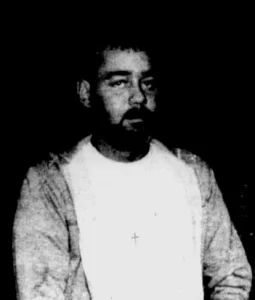 After hearing of the conviction, William Friedkin decided to visit Bateson in prison. Friedkin said the visit inspired him to make the movie Cruising (1980). Al Pacino plays a cop who goes undercover in the NYC gay scene to try to catch a serial killer.
Bateson was released after twenty-four years and three months. He was released in August of 2003. After he completed parole in 2008, he disappeared. The Social Security Death Index shows that a man named Paul F. Bateson, with the same birthdate and a Social Security number issued in Pennsylvania died on September 15, 2012.
https://en.wikipedia.org/wiki/Paul_Bateson