Editorial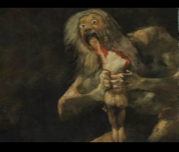 Our Favorite Instagram Artists
I love art. One of my favorite places is the Metropolitan Museum of Art, followed closely by the MoMA, the Guggenheim, and the Museum of Natural History. I love the way art makes me feel. So when I opened my personal Instagram years ago, art accounts were one of the first things I looked for. So when Scary Matter was born, following horror artists was natural.  Some show their love of horror movies, and others use it as a way to express emotion (we all know that some emotions can be as terrifying as the worst horror movie!).  It must be better than therapy, and I am both impressed and very jealous!  So whichever kind you're into, here are some that the Scarymatter crew highly recommends following:
@mednott

– She's an artist based in Bergen, Norway.  When I first discovered her account, I literally scrolled through every picture.  Her work is inspired by both Norwegian folklore and the Norwegian black metal culture. Her work is mostly dark and monotone, and she quite often removes the eyes from the faces. She told me that when she paints, she sometimes just lets the paint drip down the painting, and uses quick pencil strokes so she doesn't overthink it, and lets the piece speak for itself.  In 2015 she began painting outside as a way to cope with anxiety caused by events in her personal life. Her art has also been seen outside of Bergen too, like London and Iceland. Follow her account and see what I mean (the piece captioned "in darkness we shall be reborn" is my favorite!)
@

frederickcooperarts

– This man does the most amazing classic monster illustrations. They are spot on!  He uses color in the background of some of his pieces that is just beautiful. If you are a fan of classic horror movies, then you should definitely be following this account.  Also, check out his website

frederickcooperarts.com
@

mthm_art_maker

– Michael is an artist based in Brisbane, Australia.  His love of horror movies and horror art both inspire his pieces.  They run the gamut from movie characters to his own original creations.  The shading in his work is fantastic. You can watch his creative process on

twitch.tv/mthm77

.  Fun fact – his young daughter is involved in creating the pieces too!
@

michaelkulickartwork

– We have a lot to say about Michael's work, all of it good! He uses different mediums and his work can be anywhere from beautiful to macabre.  His painting titled "Broken Mother" and drawing titled "Study of Nude" are absolutely beautiful. And his paintings titled "The Pale Rider" and "Comatose" are favorites here at Scary Matter. He has some great poster art as well. His website is

http://michaelkulickartworks.com/

. 
@

cesar237art

– Another account that we love. He does both photography and original artwork. His photography has a very dark, disturbing feel to it. He obviously put a lot of work into staging his photoshoots and the end result is pretty awesome.  He paints and/or sketches movie characters with his own unique style. One thing we noticed about his original pieces was the emphasis he puts on the mouths and teeth. Very cool and unique. Make sure you check out his Etsy shop

https://www.etsy.com/shop/cesar237art
@pitchcanker

–  This is another artist that will give you the feels.  What originally caught everyone's attention was that everything is red, white, and black. It's such a striking combination. According to their website, the work is an expression of the artist's anxieties and emotional turmoils.  There's one on Instagram captioned "the pain overstayed its welcome" and I felt that hard!  There are also series: The four horsemen, the levels of hell, and representations of the Tarot (The World card is just gorgeous!) Check out the website

pitchcanker.com

 
So if you're a fan of horror and/or emotionally expressive art, I highly recommend checking out these artists. 
The picture in this article is called "Saturn Devouring His Son" by Francisco Goya.