Homicide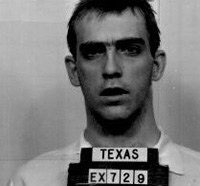 Johnny Frank Garret
On October 31, 1981, Johnny Frank Garret broke into a convent in Texas. The convent was across the street from his house. He raped and murdered seventy-six-year-old Sister Tadea Benz. He was arrested, convicted, and sentenced to death by lethal injection. Garret was seventeen years old when he murdered her.
As a child, Garret was raped and abused by his stepfather. By the time he was ten he was already drinking and using drugs. His stepfather used to beat him and force him into homosexual pornography starting when he was only fourteen. His drugs abuse escalated and he eventually started doing things like sniffing paint thinner. He was frequently in trouble with the police.
Sister Benz had been stabbed, beaten, strangled, and raped. A witness said that he saw Garret running away from the convent. Garret admitted to sealing from the convent earlier in the day. The knife that was used to stab Sister Benz was very similar to one found in Garret's house. His fingerprints were found in the convent. Garret eventually confessed to the murder, He said that Sister Benz prayed as he killed her. He was found guilty and received the death penalty. 
While in prison, Garret was interviewed several times by forensic psychiatrist  Dr. Dorothy Lewis. Dr. Lewis originally diagnosed him as psychotic with schizophrenia and brain damage. She saw a tv interview where he claimed that his dead aunt visited him in prison. In that interview, he told her about another personality named Aaron Shockman. Aaron developed during Garret's sexual abuse. Garret wasn't afraid of the death penalty because "Aunt Barbara" said she would save him. His only fear was of people finding out about the pornography.
Garret's execution was scheduled for January 6, 1982. A group of bishops tried to stop it because of his past. He was a minor when he killed Sister Benz. They said that he had brain damage, and he had been diagnosed as chronically psychotic. A call from Governor Ann Richards stopped the execution.  It was put off for a month, thanks to the intervention of Pope John Paul II. The call from the governor came in one hour before the execution was scheduled.   Dr. Lewis argued in front of a clemency board on Garret's behalf. She showed proof of his multiple personalities and said he was unfit for execution. Clemency was denied and Garrett was executed on February 11, 1992. Garret's supposed last words were "I'd like to thank my family for loving me and taking care of me. And the rest of the world can kiss my ever-loving ass because I'm innocent."
Unfortunately, Texas may have executed the wrong man. Twelve years later, DNA that was found on Sister Benz was tested at the request of a lawyer named Jessie Quackenbush. Quackenbush was hired by Garret's family. It was tested against the DNA of Leoncio Perez Rueda. Rueda was in jail for committing a similar rape and murder. The DNA was a match. Rueda also admitted to raping and killing a nun in the past. He hasn't been officially charged with Sister Benz's murder. 
Legend has it that there is a curse on people involved with Garret's trial. Some say that Garret wrote a letter to people involved in his conviction.  It supposedly said that people involved in the conviction of an innocent man would receive "gifts" from him. These gifts would be a curse. It appeared to have come true. Many people related to the case have died:
A juror named Novella Summner died after falling down a flight of stairs.

The daughter of juror Nathan Shackelford from an accidental gunshot wound to the head. His sister was killed by a drunk driver.

Garrett's trial lawyer Bill Kolius died of pancreatic cancer.

Garrett's first appellate lawyer Bruce Sadler and post-conviction trial Judge Sam Kaiser died from the same form of leukemia. 

Sherrif Jimmy Don Boydston and Officer Walter Yerger both died from leukemia.

NBC Reporter Cathy Jones died in an airplane crash.

Medical Examiner Ralph Erdemann was convicted of falsifying autopsy reports. He lost his medical license was sent to prison. His wife died of pancreatic cancer

A man named Eugene "Heavy Duty" Patterson was found dead in his car for unknown reasons.

Watley, a jailhouse snitch who testified against Garrett for a reduced sentence, committed suicide.

Carol Moore, a school teacher who testified against him at trial, committed suicide.

District Attorney Danny Hill committed suicide. His daughter hung herself a few years later.

Another of Garrett's appellate attorneys, Jeff Blackburn lost his wife to suicide. His son was accidentally locked inside a hot car and has brain damage. 

A woman named Ann Richards died from esophageal cancer.
The theory of a "curse" got going after Jessie Quackenbush produced a documentary called The Last Word. This was followed by the movie Johnny Frank Garret's Last Word. 
https://www.clermontsun.com/2019/06/10/marc-hoover-guilty-until-proven-innocent
https://www.oxygen.com/true-crime-buzz/what-drove-johnny-frank-garrett-to-rape-murder-nun-in-1981
https://murderpedia.org/male.G/g1/garret-johnny-frank.htm