Film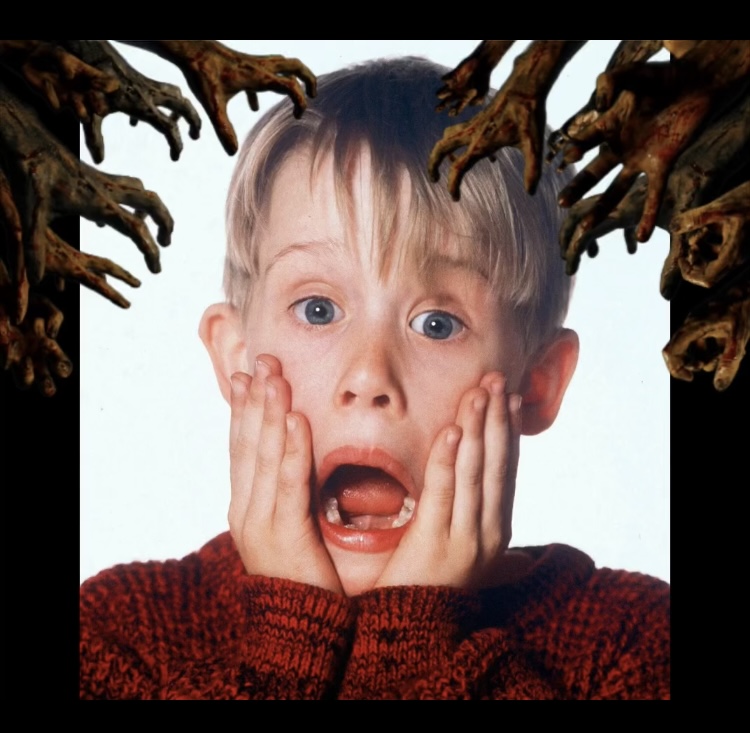 Have a Scary Christmas
Halloween has come and gone, and Christmas is here. Although we all keep the Halloween spirit alive all year, I guess we can make a little room for Christmas. Just like you, I watch horror movies all year long. The thing I don't do for some reason is watch Christmas horror movies during the year. I don't know why, but it never occurs to me. Since the Christmas season is here, I decided to start watching them. Christmas horror is almost always extremely cheesy. So if you don't have these on your list already – here are some to get you started:
Krampus (2015)

– I love this one. It's so much fun! Like most holiday movies, it has the standard dysfunctional family getting together for the holidays. Then they get snowed in by a blizzard. One of the kids is completely miserable and accidentally summons Krampus. Then director (and co-writer) Michael Doughtery has some fun. The cast is fantastic! Adam Scott, Toni Collette, and Dave Koechner, just to name a few.  And the gingerbread men…
Silent Night, Deadly Night (1984) –

Poor Billy! His parents must have been extremely naughty because Santa killed them both. He ends up in a horrible, abusive orphanage. When he grows up he gets a job in a toy store. He has to work on Christmas Eve and they ask him to dress up as Santa. Not surprisingly, the red suit triggers him. If you like old-school,  cheesy slasher films, this is a good one.  As a bonus, one of the stars is

Linnea Quigley

– one of my favorite scream queens! We also have

Part 2

,

Part 3: Better Watch Out

,

Part 4: Initiation

,

Part 5: The Toy Maker

, and

Part 6: Santa's Watching
Santa's Slay (2005)

– Santa (

Bill Goldberg a/k/a Goldberg of WWE

) is actually a demon. He lost a bet with an angel and had to be Santa for a thousand years. Now time is up and he's gonna make up for it. His mission? Find the angel he lost the bet to. The angel is now someone's grandfather – and Santa wants to be part of Christmas dinner! 
Black Christmas (1974) –

This is a classic. A slasher film before slasher films were popular!  Sorority sisters spending Christmas break together are being stalked by a killer. His phone calls to them leave no question about that. This has a very creepy feel to it and I don't think it gets enough attention. If you haven't, I highly recommend that you watch it. There are great performances by

Margot Kidder

, the beautiful

Olivia Hussey

, and

John Saxon

(a/k/a Nancy's father in

Nightmare on Elm Street).
Better Watch Out (2016)

  – Ashley is babysitting Luke, who she's been watching for a while.  They plan to watch horror movies and eat pizza.  Then people try to break into the house. Ashley is doing her best to fight back and protect Luke, while he is trying to save the girl he has a crush on. It's like 

Home Alone

meets

You're Next.

It's got a nice twist to it, but don't expect a hardcore slasher movie or you'll be disappointed.
Rare Exports: A Christmas Tale (2010)

–

This is a Finnish export. On Christmas Eve, an archeological dig discovers Santa Claus frozen in ice. Before you know it, animals are being killed and children are disappearing.  It turns out that Santa is not the jolly old elf we think he is. And his elves aren't too happy either. You're going to need a dark sense of humor for this one.  Parts of the movie are subtitled. Also, if you're offended by male nudity, I don't recommend watching this – there's a fair amount of it.
Santa Jaws (2018)

– This is a movie that I never knew I always needed! A boy is sick of the family drama on Christmas and makes a wish to be alone. Thanks to a magic artifact that he has, his wish come true…sort of. Instead of his own version of

Home Alone

, he gets a Christmas-themed shark coming to kill them all! Is this scary? Not even a little. Is it so bad, it's good? Definitely! 
Honorable mention goes to the short Treevenge – A group of assholes from a Christmas tree farm is out getting trees.  The trees have had enough and set out to get revenge.  (Yeah – you read that right). As soon as you have about fifteen minutes, click here. Hang in there until the end. So much blood! It's totally worth it!!
Have a very Merry Christmas everyone!