Serial Killers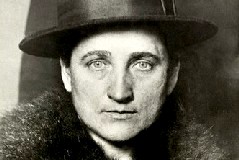 Tillie Klimeck – Psychic Serial Killer
"You're pretty near dead now"… Tillie Klimeck reportedly whispered in her husband's ear. Not exactly the words of a loving, worried wife. And if it wasn't for the intervention of other family members, her husband Joseph would have died. And the arsenic in his stomach might never have been found.  Unfortunately, her previous husbands (and several others) were not so lucky.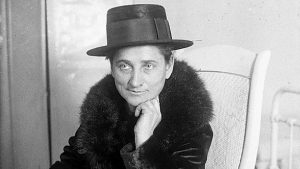 In the first few years of the 1920s, almost thirty women were tried and acquitted of murder in Chicago (usually of their husbands). It seemed that if you were a pretty woman – you could get away with murder. Only four women were convicted. Two of them weren't thought of as very pretty (according to the media), one was middle-aged and one was insane. Unfortunately for Tillie Klimeck, after her arrest, she had been described as a "fat, squat, Polish peasant woman"  (not a good description for your Tinder profile either!)
Tillie claimed to have premonitions about death. Other people's deaths (But there is no proof of her saying it). She accurately "predicted " the dates of her victims. Or was she just making a schedule out loud? 
Tillie was born in Poland in 1876. Her family moved to the United States when she was a baby. In 1895 Tillie married her first husband John Mitkiewicz. Sadly, John died of heart failure in 1914.  One of her friends claims that Tillie dreamt about finding him dead on that exact day. Two months later she married a man named John Ruskowski.  He also died shortly after marrying her.  Once again she supposedly predicted it in a dream. She quickly cashed the insurance checks for each husband after they died.
Her next attempt at wedded bliss was with Frank Kupszcyk. He died after six months. Wedded bliss: 0, insurance checks: 3.  Next up on the chopping block was Joseph GusKowski. Again with the dreams, followed by the dead husband.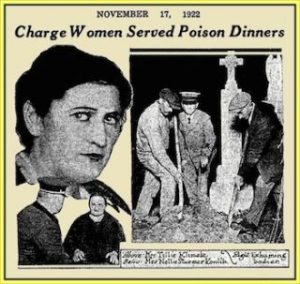 There is also a story of Tillie predicting the death of an entire family. (A family that she argued with – btw) Weeks after her premonition the family's three children were dead. Then people in the neighborhood wisely started avoiding her. And then came Anton Kilmeck. 
Anton ignored all the warnings and married Tillie. Then as expected, he got sick. Luckily for Anton, his family (who was already worried when he married Tillie) took him to the hospital. The doctors saved him but found that he ingested poison. Tillie was naturally the first suspect and was arrested. Rumor has it that when the police came for her, she told one of the officers "…The next one I want to cook dinner for is you".
Police had the bodies of her former husbands exhumed. All were found to contain arsenic. Tillie's cousin Nellie Koulick was also arrested. She told the police that Tillie wanted to get rid of her husband. Tillie rejected Nellie's suggestion of divorce and said "…I will get rid of him some other way". Tillie claimed that Nellie gave her rat poison.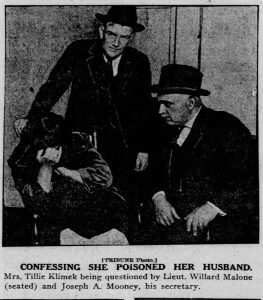 Tillie was only convicted of murdering Frank Kupszcyk. She was sentenced to life in prison, which was the harshest sentence a woman in Chicago had ever received. People speculated that if he had been better looking she would have been acquitted. Nellie spent a year in prison during a long trial but was ultimately acquitted. There were several neighbors and relatives of the women that had eaten at Tillie's and either became extremely sick or died. Several men that were formerly involved with Tillie had also met the same fate.
In addition to her husbands, Tillie was suspected of poisoning and/or murdering the following people:
Rose Chudzinski –  cousin

Helen Zakrzewski – cousin

Stanley Zakrzewski – cousin

Stelle Zakrzewski – cousin

Meyers – Tillie's rumored boyfriend (that is his only known name)

Wojeck Sturmer – Nellie's first husband

Dorothy Spera – Nellie's two-year-old granddaughter

Sophie and Ben Strummer – Nellie's children. Sophie was first and Ben was a month later.

John Sturmer – Nellie's son. He was poisoned but lived. He suspected his mother.

Rose Splitt – She thinks Tillie tried to poison her after Joseph Klimeck spoke to her.

Stelle Grantowski –  One of Tillie's former boyfriend's sisters.  She claimed that Tillie tried to poison her after they had a fight.

Nick Micko – cousin.  Poisoned but recovered.

Bessie Kupcyzk – Frank Kupczyk's sister-in-law.  Thinks she was poisoned from eating at Tillie's house.

Lilian Sturmer – Nellie's fifteen-year-old daughter. She was poisoned but lived.
Tillie died in Joliet Correctional Center on November 20, 1936. She was sixty. 
https://en.wikipedia.org/wiki/Tillie_Klimek
https://murderpedia.org/female.K/k/klimek-tillie.htm