Movies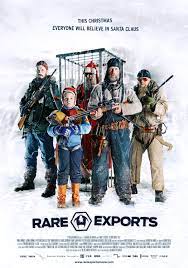 Rare Exports: A Christmas Tale
Do you believe in Santa Claus? He's a jolly old elf, right? His eyes twinkle and he has rosy red cheeks. And every Christmas he slides down the chimney and brings presents to the good little girls and boys. But have you ever stopped to wonder what happens to the naughty kids? Just remember – he sees you when you're sleeping and knows when you're awake. So you'd better be good for goodness sake…or else!
Rare Exports A Christmas Tale (2010) is a Finnish Christmas horror movie (sort of). Don't expect a Santa slasher movie. It's based on the Finnish legend of Father Christmas. Rare Exports isn't a scary movie. The movie has a very slow build. If you've watched any Scandinavian horror movies you'll understand (Yes I know – Finland isn't part of Scandinavia, so don't yell at me). But the payoff is worth it. 
A group of Americans is excavating on Korvatunturi Mountain in Finland. While they're digging they find a sawdust-covered block of ice buried deep in the mountain. The crew doesn't realize that Santa Claus is at the center of the ice. Meanwhile, two local boys are hiding behind a mound of snow watching them.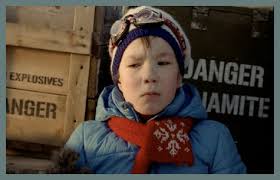 Pietari, the youngest of the two boys, believes the excavators have dug up Santa.  He starts researching why Santa's buried in Korvatunturi mountain. He learns an old legend about Santa that explains it… You'll have to watch it to find out what that is! Pietari decides that he has to protect himself. He knows he's been naughty. He is desperate to make everyone believe him. But he's just a child and no one will listen to him.
Father and son actors Jorma Tommila, and Onni Tommila, play father and son Rauno and  Pietari. Rauno and several other villagers are prepping for the annual reindeer roundup (if you don't know what a roundup is, click here for a video of it. It's fascinating). But it never happens. It turns out that the reindeer were mysteriously slaughtered before they reached the roundup pen. The men assume that it was wolves.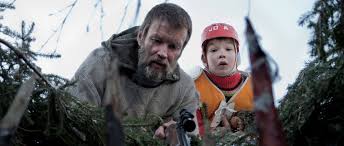 One day a mysterious bearded man falls into a wolf trap that Rauno set – things start to get complicated. Rauno and his friends tie him up and question him, but the man doesn't speak.  Who is he and why do his eyes glow whenever he sees Pietari? And to make matters worse, some of the village children have disappeared!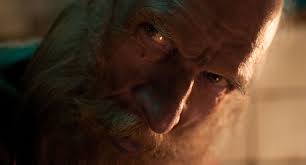 The movie gives us a glimpse into life in Northern Finland. It's an interesting contrast for those of us that don't live in isolated places like that. The cinematography by Mika Orasmaa is gorgeous! The movie was actually filmed in Tromsø, Norway. The landscape is gorgeous and snow-covered but desolate. Orasmaa wonderfully captures the isolation of living that far north. The action scenes were smartly filmed. 
Once the action starts it keeps going. I was really rooting for Pietari. To be honest, I didn't love the last few minutes of the movie. But I understood its relevance. It was an unexpected twist and ended the movie on a dark but comedic note.

If you're looking for a different kind of Christmas movie, you should definitely give Rare Exports a try. Let us know what you think!