Books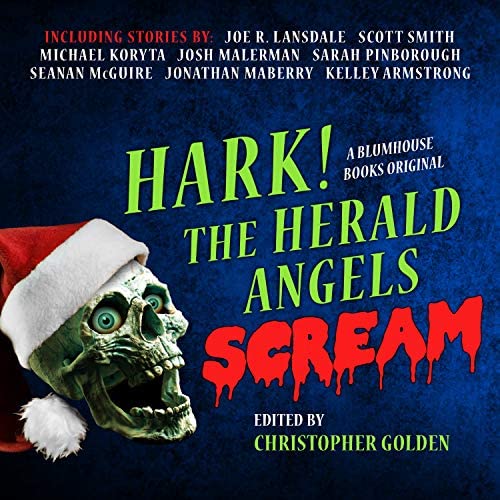 Hark the Herald Angels Scream
Forget 'Twas the Night Before Christmas, Hark! The Herald Angels Scream is more my style. If you're looking for a little blood guts and gore with your eggnog, then you must give this collection of short stories a try! 
You all know by now that I love a short story collection. Especially this time of year. One of the best things about  Hark! The Herald Angels Scream is the number of stories that I really liked. Anthologies are usually hit or miss. Out of eighteen stories, there were only a couple that I couldn't get into. 
I have to confess that it was the cover that got my attention, but sometimes it pays off to judge a book that way.  Hark! The Herald Angels Scream is a well-written anthology. The stories are all different and have good endings. You get a little bit of everything: robot pets, ghosts, a thieving chimney sweep, mummies, and more: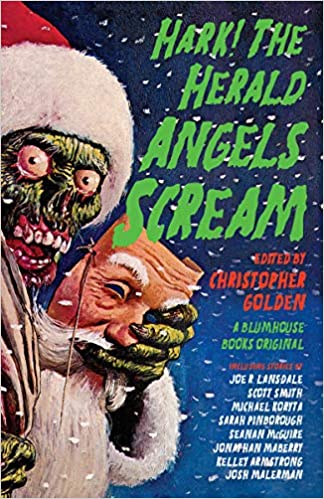 Absinthe and Angels – Kelley Armstrong – A terrifying Christmas legend from Canada about mummers. A group of friends in a cabin in the woods hears three knocks on the door. The cabin is isolated and there are no cars to be seen. Things go downhill fast.
Christmas in Barcelona – Scott Smith –  A couple and their newborn baby go on vacation for Christmas. Absolutely nothing goes right. The baby cries the entire flight (that alone is a horror story), their luggage gets lost, and the hotel sucks. While out for groceries the husband buys toys for the baby that comes to life on Christmas. Need I say more?
Fresh as the New-Fallen Snow – Seanen McGuire – It's a very sad story. The parents of three terrified and mentally abused children are going out. They leave the children with a new babysitter. The new sitter has a story to tell them. If you know any shitty parents – have them read this.
Love Me – Thomas E. Sniegoski – A man just released from prison wants to go straight. It's Christmas and he can't find a job. So back to breaking and entering it is. Until he breaks into the wrong apartment and meets a creature looking for love.
Not Just for Christmas – Sarah Lotz – A divorced dad is trying to buy his children's love back. He buys them an AI dog for Christmas. I've always said that nothing can go well with artificial intelligence.
Tenets – Josh Malerman – It's a great story! An ex-cult leader at Christmas dinner what a great combination. My only complaint is that I wish it was longer,
Good Deeds by Jeff Strand – I loved this one. Jeff Strand is funny! The story is about a guy that's kind of a douchebag. He does a good deed and is so pleased with himself that he writes a song about it. He just wants people to know how amazing he was. But when he sings it, people start to kill themselves. It's a good messed-up laugh.
It's a Wonderful Knife – Christopher Golden – A little bit of Harvey Weinstein (I don't know if that was the intent) mixed with a supernatural murder weapon. Put them together and you get an excellent creepy story!
Mistletoe and Holly – James A.  Moore – This one is kind of sad. The holidays make people miss their deceased loved ones more than usual. But what if they could be brought back to life? Would you? Should you?
Snake's Tail – Sarah Langan – A tale of old Gods, sacrifices, and a town where children disappear at midnight on Christmas Day. So good!
The Second Floor of the Christmas Hotel – Joe R. Lansdale – Two men visit a hotel where a woman drowned in the river behind the hotel on Christmas day.  The owner claims there's a ghost. Oh by the way – they invited one of the murder suspects too.  Great creepy ghost story!
Farrow Street – Elizabeth Strand – An American woman spending Christmas in London is having a shitty time. She wants to get food on Christmas but everything is closed. She walks down Farrow Street looking for a store but goes inside a house instead. But then she realizes that she can't get out…
Doctor Velocity – Jonathan Mayberry – To be honest, I didn't quite get it. I've never read any of Mayberry's books before. I think maybe that would have helped. If you're a fan of his I'd love to hear what you think of this story.
Yankee Swap – John McIlveen – So this was fucked up in a good way! A woman is kidnapped and wakes up strapped to a chair. There are five other people strapped to chairs and gifts on the table. Then a man in an elf mask comes in. Saw meets Christmas! There's a great twist at the end.
Honor thy Mother – Angela Slatter – Apparently the Angel of Death is an old woman that lives in Salem. I love it! Her family wants to put her in a nursing home (they don't know who she really is). The moral of the story? Be nice to your mother everyone! 
Home – Tim Lebbon – We're in a post-apocalyptic world now. Two men are traveling together and one of them might be Santa. His name is Old Bob.
Hiking Through – Michael Koryta – A man dealing with a broken heart goes hiking on Christmas Day on the Appalachian Trail. It's said to be haunted by the ghost of a woman that was killed years before. Unfortunately – he meets her.
The Hangman's Bride – Sara Pinborough – A gothic ghost story, my favorite kind! A chimney sweep with a habit of stealing things decides to rob the old mansion where he's cleaning the chimney. But he encounters a Japanese spirit called an Onryō. It's the ghost of a woman that was murdered there a couple of years earlier.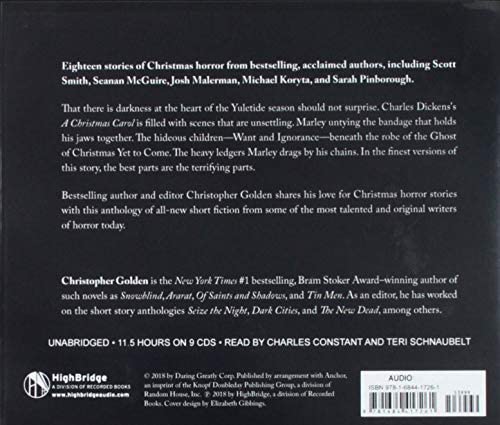 This is a great collection of Christmas horror. So treat yourself to an early Christmas present, You may even discover some new authors to check out. I know I did!