Books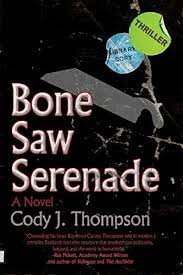 Bone Saw Serenade
Recently I had the honor of being asked by Cody J. Thompson to review his debut novel Bone Saw Serenade. This guy is one to watch my friends! Cody lives in San Diego, CA. He started out writing for several newspapers in San Diego, then he set out to write a novel. He is also the host of the long-running podcast Beer Time in San Diego.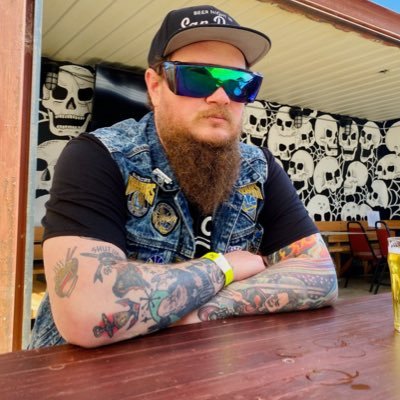 Bone Saw Serenade is a psychological thriller that takes place in Seattle. Two old friends from high school, Charlie and Emma, reunite after many years. Then one day Emma's husband Eddie disappears. Luckily Charlie is there to help his old friend out during this difficult time. Emma is drawn into some old feelings for Charlie in the midst of her worry about her missing husband. She's grateful for Charlie's support, but also a bit confused…something about him isn't adding up.
Detectives Frank Mckenna and Angus Pratt are on the case. As the investigation kicks into high gear, Detective Pratt finds himself drawn deeper and deeper into the case. There are several characters that could be behind Eddie's disappearance, but no firm leads. The kidnapper could be anyone. But Pratt has his suspicions, and now it's a game of cat and mouse.
Cody takes his time to let us get to know the characters. His descriptions were a bit lengthy at times, but then again, so are Stephen King's. Cody is very good at character development and setting the scene. The first half of the book is a slow build, but once the action started he kept it going.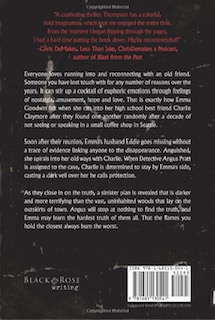 The story drew me right in. I was pretty sure that I had it figured out early on and was a little disappointed, but then came the twist that I didn't see coming. I love when a book makes me say "Oh Shit"! The pace really sped up in the second half of the book. When the culprit and motive are revealed things get even more fucked up. 
The last few chapters of the book are sadistic, bloody page-turners, and Cody doesn't hold back on the violence. We learn the true depth of the kidnapper's madness. Meanwhile, Detective Pratt thinks he figured out who the culprit is and has gone rogue to prove it. Will he find Eddie and rescue him? You're going to have to read the book to find out.
This is a fantastic debut novel! Bone Saw Serenade has everything a good psychological thriller should. Cody Thompson has crafted a gripping story full of well-developed characters and one seriously fucked up villain. And props on his choice of cover art. It looks like one of the books on my shelf that I've read more than once.
His next book, This One's Gonna Hurt is scheduled for release this year and I can't wait to read it. Go get yourself a copy of Bone Saw Serenade. You can thank me later.
And a  big thanks to author Cody J. Thompson for sending me a copy of his book.