Directors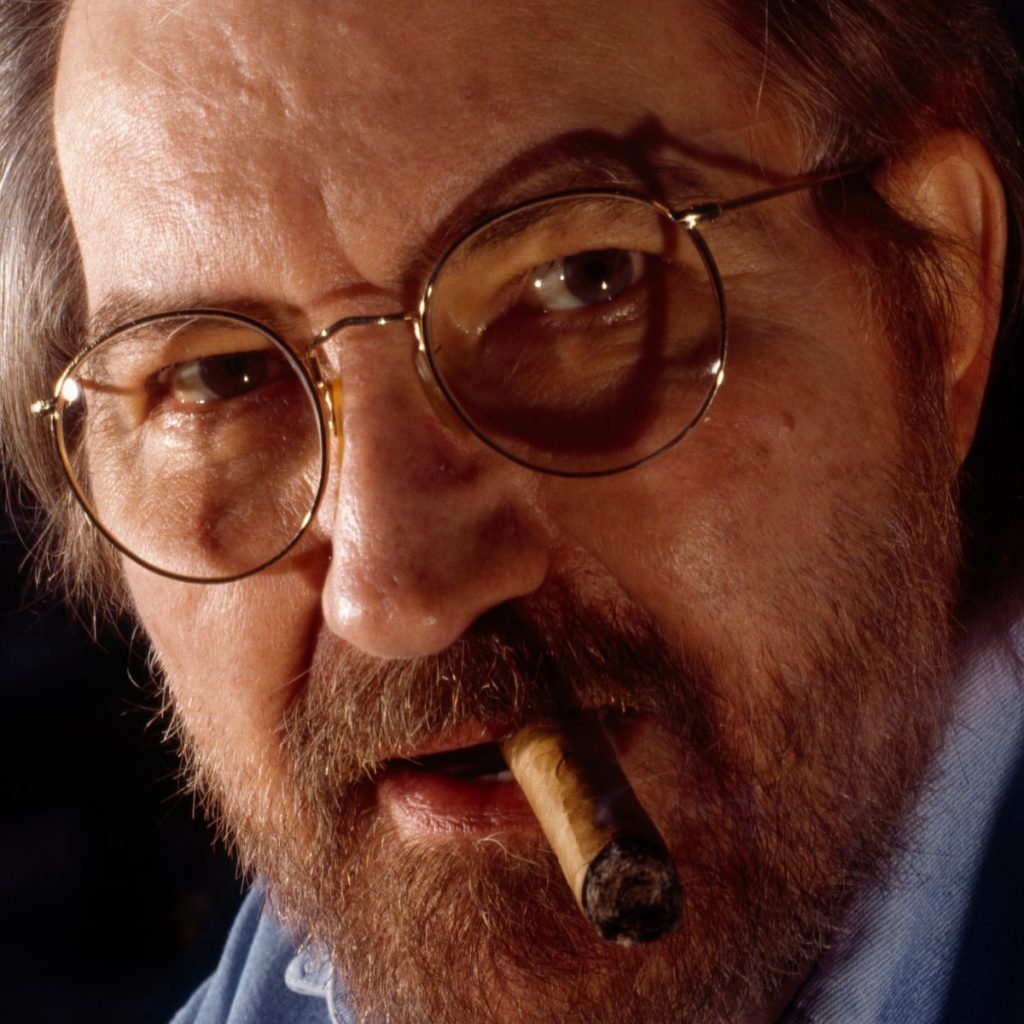 Tobe Hooper
Tobe Hooper once said, "You've got to send a physical sensation through and not let them off the hook. I like to make it faster and faster and faster and pumping and banging until I get into you". Such a perfect quote from the man who wrote The Texas Chainsaw Massacre!  Chainsaw wasn't the first thing he did, but it was what got people to sit up and take notice. Although it's usually the first movie that comes to mind when you mention Tobe Hooper – there is so much more to him than Chainsaw.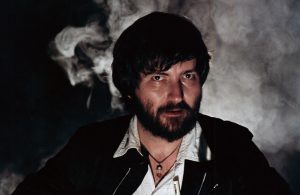 When Willard Tobe Hooper (yep – that's his real name) was nine, he got his hands on his father's 8mm camera, and his interest in filmmaking was born. His father, Norman William Ray Hooper, owned a theater in San Angelo, Texas. Tobe wanted to make movies that would play there one day. When he was young, his family doctor told him a story about a Halloween mask made from a cadaver. Then one day he was on the phone with his aunt in Wisconsin and she told him about serial killer Ed Gein. Those are the kind of stories that you don't ever forget. 
Tobe always wanted to make movies. Using the camera he took from his father, he made movies using any willing family member or friend that he could find. He went to the new film school at the University of Texas in Austin. He was on campus when Charles Whitman, "The Texas Sniper" started shooting. A security guard was killed right in front of him. After graduating from the University of Texas in Austin, he worked as a college professor and documentary filmmaker. In 1965, he wrote a short film called The Heisters.  It's a slapstick horror comedy parody inspired by the Hammer Horror movies. 
 In 1969, he and his friend Kim Henkel wrote a movie called Eggshells. It was about some stoned hippies talking in a cabin in the woods, and being influenced by "something". It's been called both experimental and surreal. It was not well received. I haven't seen it myself, but I've been told that you can find it on The Texas Chainsaw Massacre 2 blu ray. Then in 1974, he and Kim Henkel made The Texas Chainsaw Massacre!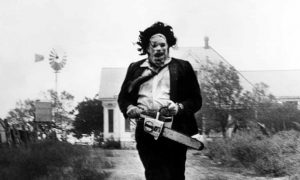 Chainsaw was influenced by the violence of the time. Leatherface is loosely based on the story of serial killers Ed Gein and Elmer Wayne Henley. Tobe got the idea for a chainsaw while Christmas shopping. He thought a chainsaw would be a great way to get rid of the crowds (he's not wrong)!  He said … "I was kind of freaking, just wanted to get out of there, get out of the crowd," he said in the documentary. And so I found myself in front of a chain-saw display in the hardware department, and that's where the idea came from — Well, if I pick this damn thing up and start it, they'll part like the Red Sea and I can get out of here"…
They didn't have a lot of money to make the movie and had to be creative. Using minimal special effects and very few shooting locations, the movie was made on an extremely low budget. The cast had a very minimal wardrobe and they worked in brutal heat and high humidity seven days a week. The final product took the horror world by surprise and is still considered one of the scariest movies of all time.  (Click here to read about our love for Chainsaw)
Although Chainsaw became a horror classic, the critics had a different opinion. The British Board of Film Classification refused to certify the movie for release. The censors claimed it engaged in the "pornography of terror". 
The success of Chainsaw opened up opportunities for Hooper. He and Kim Henkel were on the rise.  Their next movie was 1976's Eaten Alive. It was about a motel caretaker that kills his guests and feeds them to his pet alligator and is inspired by serial killer Joe Ball (a/k/a The Alligator Man)  This was much gorier than Chainsaw. Tobe cast Marily Burns (a/k/a Sally in Chainsaw) and an unknown actor named Robert Englund! Eaten Alive won several horror awards, but didn't match the success of Chainsaw.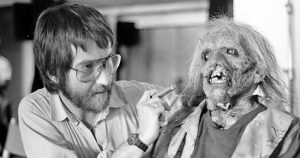 Tobe's next project was the 1979 TV movie Salem's Lot.  The budget was much bigger than his other films, but he had to edit Stephen King's book for tv. The amount of violence, sex, and gore that was allowed in the 70s was MUCH less than we see today. Tobe called it "very spooky", and said "It affects you differently than my other horror films. It's more soft-shelled…it has an atmosphere which creates something that you cannot escape-the reminder that our time is limited and all the accouterments that go with it, such as the visuals."  It's slow and not as good as the book, of course, but worth a watch. I saw it when I was young and it scared the shit out of me!
In 1982, Steven Speilberg asked Tobe to direct Poltergeist.  It was supposed to be more of a sci-fi movie, but Tobe convinced him to turn it into a ghost story. Working with Speilberg gave Tobe a huge budget and all the special effects that Hollywood had to offer. The movie was a success and is still considered an 80s classic. 
Tobe continued to work steadily in movies and tv, although he never achieved the commercial success that he did with Chainsaw. Ridley Scott says that his work on Alien was influenced by Chainsaw. Wes Craven, Alexander Aja, and Rob Zombie are among those that say he influenced them. Tobe died on August 26, 2014.
Fun facts about Tobe:
As a publicity stunt, he sent a copy of

Chainsaw

to the Museum of Modern Art in New York City. To this day it is part of their permanent film collection. 

He wanted Chainsaw to be rated PG.

In 1980, Tobe directed the video for Billy Idol's "Dancing With Myself" video.

In 2004, Tobe won the Lifetime Achievement Award at the New York City Horror Film Festival and the Phantasmagoria Award at the Philadelphia Film Festival.

In 2005 he was inducted into the International Horror and Sci-Fi Film Festival Hall of Fame.

Tobe wrote a book titled

Midnight Movi

e

. It's about a director named Tobe Hooper (of course), who released a movie he made as a student. Unfortunately, the movie is turning people into zombies.
https://en.wikipedia.org/wiki/Tobe_Hooper
https://www.imdb.com/name/nm0001361/?ref_=nmbio_bio_nm
https://www.nytimes.com/2017/08/27/movies/tobe-hooper-texas-chainsaw-massacre.html
https://www.statesman.com/story/news/2017/08/29/commentary-tobe-hooper-s-austin/6720832007/